---
Chlorella is a single-celled, water-grown microalgae which also happens to be one of the most nutrient-dense, naturally occurring superfoods known to man. Often considered "Nature's Perfect Food," chlorella is an excellent source of several vitamins, minerals, proteins, dietary fiber, and antioxidants.
This freshwater microalgae is native to Taiwan and Japan and is closely related to a similar, but far more ancient, microalgae called spirulina. However, chlorella has got spirulina beat in several aspects. For one thing, chlorella contains a nucleotide-peptide complex called Chlorella Growth Factor (CGF) that can help support healthy cellular functions. For another, chlorella has some of the highest concentrations of chlorophyll among any known plant. It is also one of the top sources of plant-based protein. This means that if you are a vegetarian, you might want to stock up on chlorella as a meatless alternative for your body's protein needs, if you haven't started already.
Chlorella also contains many beneficial polysaccharides, enzymes, and other phytonutrients that promote strength, recovery, immunity, and youthful skin appearance. Some of the nutrients that can be found in chlorella include iron, magnesium, zinc, phosphorus, calcium, iodine, manganese, and potassium.
Furthermore, chlorella is packed with vitamins A, C, D, E, and K, as well as the entire B-complex spectrum. It is an incredible source of beta-carotene, lutein, and essential fatty acids, including gamma-linolenic acid (GLA). With so many beneficial nutrients and compounds, is it any wonder that chlorella is often considered by many people to be one of the most potent superfoods? (Related: Is chlorella the most potent superfood?)
Four amazing health benefits of chlorella
Here are four of the amazing health benefits that you can experience when you start adding chlorella to your diet:
Supports the body's natural elimination of toxic elements – Chlorella is a natural detox food that binds to heavy metals. This allows chlorella to help support your body's natural ability to clear toxins by moving these harmful compounds out of your body.
Supports a healthy immune system – Chlorella contains a diverse range of powerful antioxidants that possess immune-boosting properties that aid in your body's natural defense systems. This allows chlorella to help you protect yourself from external threats.
Supports a sensible weight management plan when accompanied by proper diet and exercise – This great superfood can benefit your digestive system and make it easier for you to maintain a healthy weight. It also has most of the essential nutrients that your body needs to stay energized during your workout sessions.
Supports healthy skin – Chlorella contains a variety of potent antioxidants that can promote the growth of smooth and youthful skin.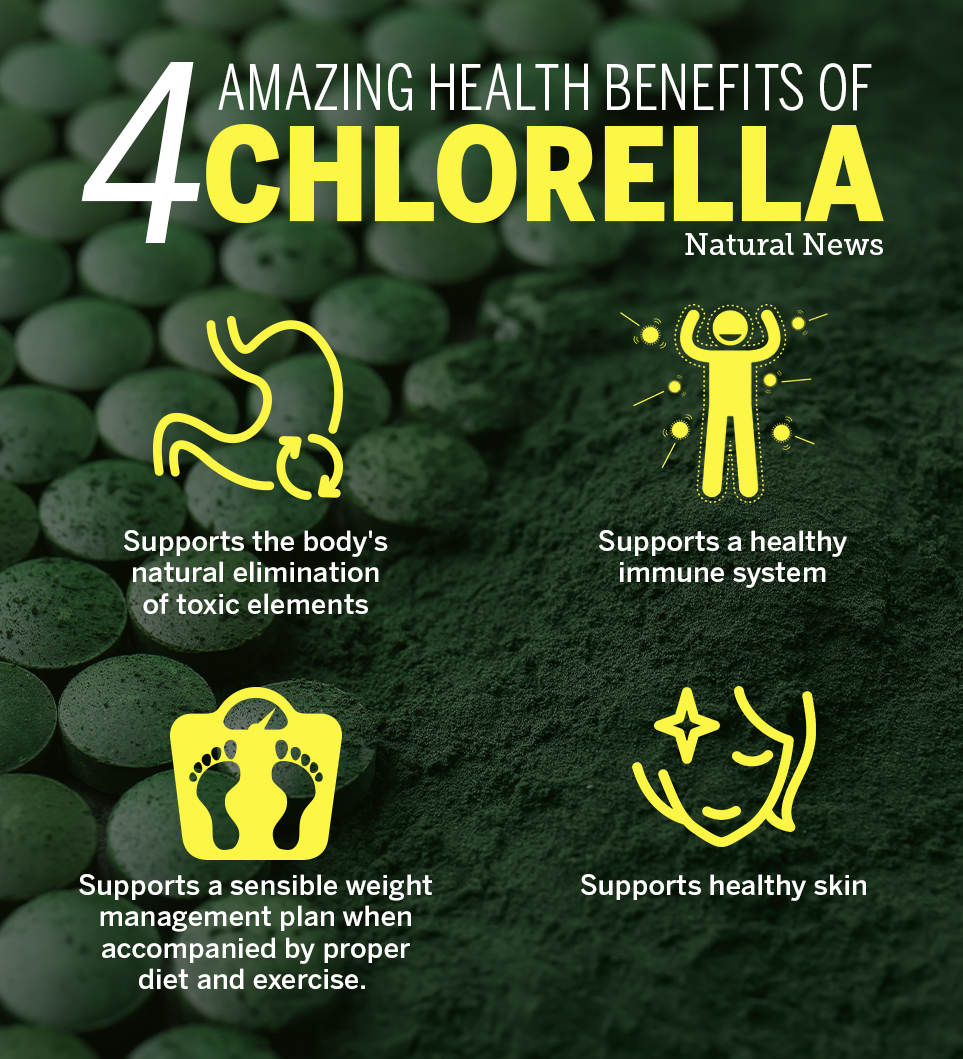 It is important to choose only high-quality clean chlorella brands, since most brands that are sourced from China tend to be polluted with heavy metals. Fortunately, you can get the cleanest chlorella on the planet at the Health Ranger Store. You can easily add our Clean Chlorella Powder to any of your favorite smoothies and beverages or directly take the Tablets.
For more information on the health benefits of chlorella, visit Chlorella.news.
Sources include: