---
As people emerge from their homes to enjoy the sunny weather, so too do the various insects creep out of the figurative and literal woodwork. It seems that summer just wouldn't be summer without mosquitoes, ants, and flies skulking about. These bugs are the bane of every outdoor barbecue and woodsy jaunt, as well as the reason why the majority of us always have an insect repellent product within arm's reach. And although most insect repellents may do a good job of keeping bugs at bay, they could be harming you as well.
How DEET and permethrin harm rather than protect
For the past 50 years, DEET-based insect repellents have been a common sight in many homes. DEET (N,N-Diethyl-meta-toluamide) is a common, active ingredient in mosquito and tick repellents that works by making it more difficult for biting insects to smell us.
The alleged efficacy of DEET-based insect repellents is overshadowed by its detrimental health effects, however. Regular DEET use can result in a variety of disturbing side effects that include skin irritation, headaches, and dizziness. High doses of DEET are even worse, as they've been linked to tremors, slurred speech, and even seizures. DEET only becomes more dangerous when combined with oxybenzone-containing sunscreen due to how easily the skin absorbs these chemicals, and how quickly they enter the bloodstream.
Equally disturbing is the fact that DEET is a toluene, a chemical family composed of organic solvents present in nail polish removers and paint thinners. In fact, DEET is so potent a chemical that it can melt plastic and fishing lines. Not exactly something you'd want near you and your family's skin.
Permethrin is another common insect repellent ingredient that affects the nervous systems of insects, causing paralysis, muscle spasms, and death. This insecticide belongs to the pyrethroid family of synthetic chemicals made to act similar to natural, insecticidal pyrethrin compounds. While pyrethroids as a whole are cautioned against due to their mild side effects on the respiratory system, permethrin is especially deadly.
In addition to being extremely toxic to aquatic animals and bees, permethrin has been categorized as a carcinogen by the U.S. Environmental Protection Agency (EPA). According to the organization, permethrin can cause liver and lung tumors, chromosomal abnormalities, and immune system problems. On top of all that, permethrin is also a neurotoxin that can damage or even kill brain cells, making it all the more dangerous around pregnant women and children.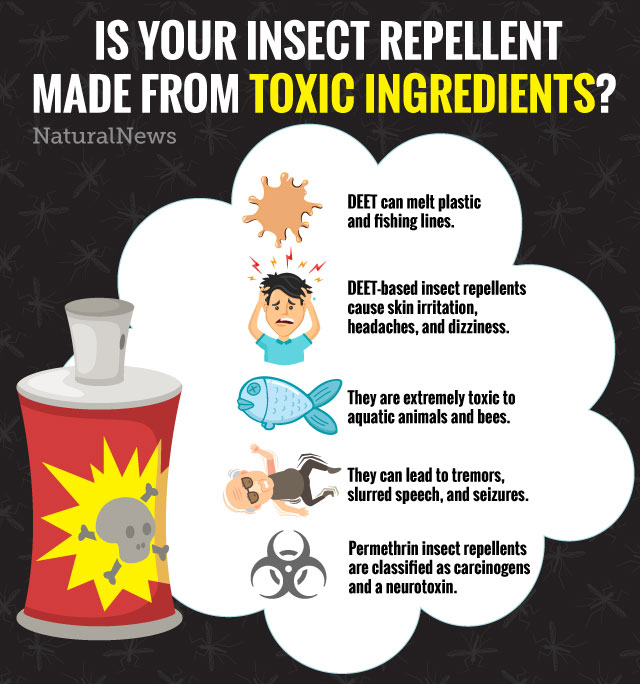 The better option
To limit direct contact between skin and DEET and permethrin, some companies have opted to put out wristbands and mesh clothing pre-treated with these chemicals. Their effectiveness in repelling insects has been called into question and has even been deemed negligible in some cases.
So, really, is spraying yourself with insect repellent still the best way of keeping yourself free of bug bites?
You don't need to worry too much. The Health Ranger offers safe and effective repellents with the Bugs Away + Bug Defender Combo Pack. Instead of relying on harmful synthetic chemicals, these plant-based repellents use natural essential oils to get rid of ants, mosquitoes, flies, and all manner of creepy crawlies. No DEET or permethrin here; just citronella, eucalyptus, cedarwood, and more. Your home won't be left out either: While Bugs Away keeps you and your family safe, Bug Defender works wonders on corners, floors, and all areas of your home.
Don't take the risk, keep pests away naturally. Your family and your home will be thankful for it.
Sources include:
Osanabar.com
HuffingtonPost.com
LivingWellDaily.com
NaturalNews.com